Student health service (SSE)
The student health service (SSE)
A nurse, a doctor, psychologists and a psychiatrist are on hand to answer any questions you may have about your state of health or any problems affecting it.
In addition to this preventive approach, the department offers :
- A free, compulsory medical consultation to monitor your licence
- Free psychological consultations by appointment
- Free access to emergency care (nursing care and medical consultations)
- Advice and prevention campaigns throughout the year (AIDS screening, nutrition, addiction, etc.)
- Checking vaccinations ;
- Help with organising or adapting your course if you have a disability.
Working in partnership with a number of organisations, the Student Health Service is there to help you and your students.
to help you with :
sexuality, contraception, STIs, abortion, free and anonymous screening centre, alcohol, tobacco, drug addiction, depression, psychological problems, eating and sleeping disorders, and any medical, social, family or emotional problems that might interfere with your studies.
Students with chronic pathologies or with specific one-off needs or disabilities are advised to contact the Health Service (SSE and SSE). Relais Handicap) from the beginning of the year to enable the application of accommodation measures for the curriculum and/or examinations and competitions.
Prevention and screening campaigns
The Student Health Service offers prevention and screening campaigns. They concern the community
university, in conjunction with a network of local partners. Its objectives are :
Raising awareness of the impact of nutritional dysfunctions on physical and mental health: obesity, anorexia, malnutrition, psychological support, personalised dietary advice, etc.
Raising awareness of the impact of addictive behaviour: alcohol, drugs, various addictions, etc.
Organisation of information campaigns on AIDS and STIs and screening tests
Nutrition education in the form of dietetic events in university catering facilities.
You can also request a teleconsultation online without advance payment via the Qare platform. All the explanations can be found below: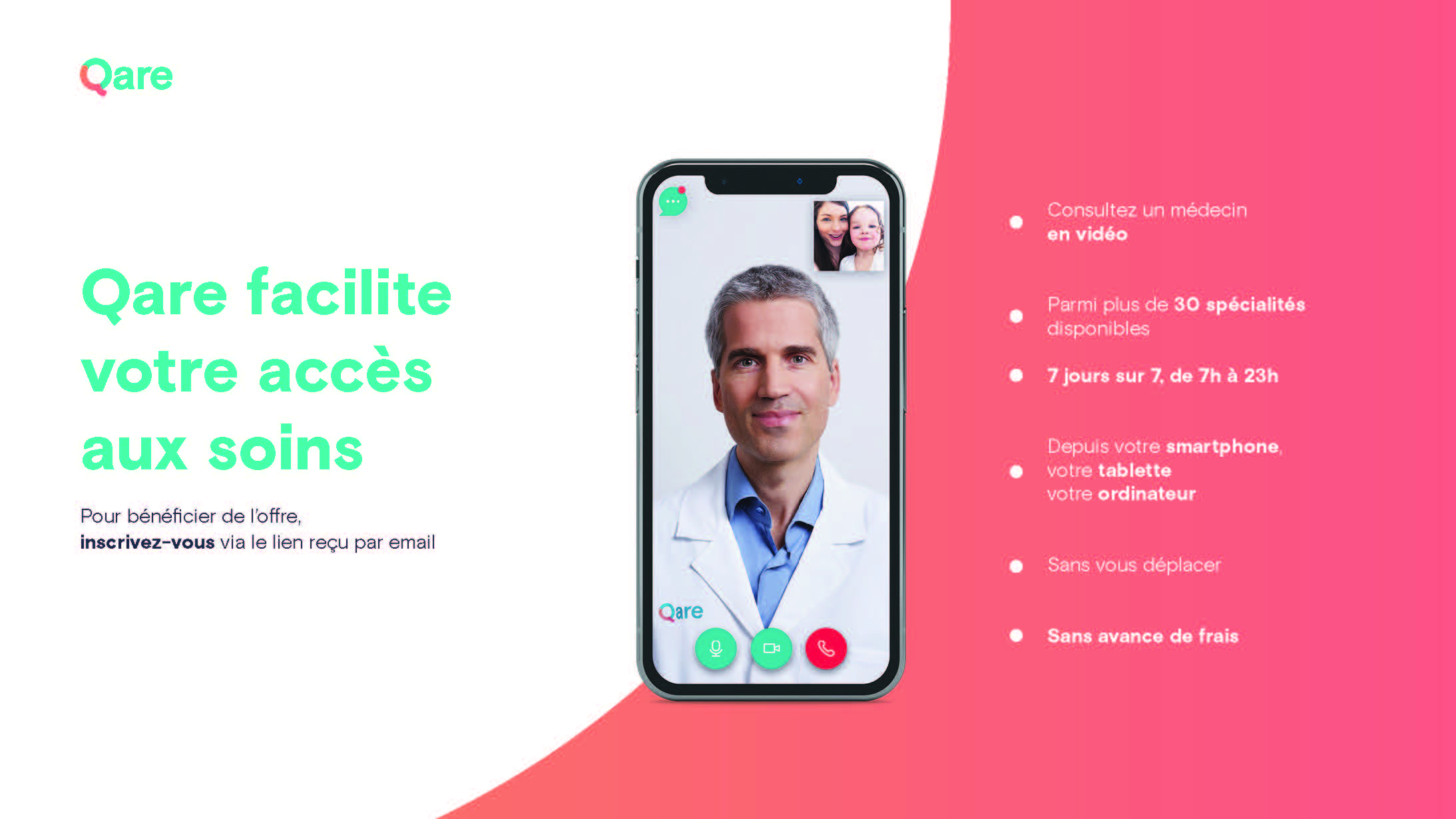 QARE medical teleconsultation, without advance payment
Avignon University is committed to providing you with the Qare solution free of charge.
With Qare, you can consult a doctor on video without going to the surgery and without paying in advance, 7 days a week, from 7 a.m. to 11 p.m., from your phone, your tablet or your computer.
In just a few clicks, Qare puts you in touch with practitioners from over 30 specialties. As with an appointment in a doctor's surgery, you choose the doctor and the time. At the end of your video consultation, you receive a prescription if necessary.
To benefit from Qare WITHOUT ADVANCE FEES, register in 2 steps:
1/ Please indicate, via your ENT (section My account / My authorisations) that you accept that the university transmits your data (e-mail, name, first name) to QARE
2/ An activation email will then be sent to you the following week by QARE
Please note: do not register directly with QARE without receiving the activation email. You will not be able to benefit from the free offer.
Students are encouraged to check their university e-mail regularly: invitations to visits and information about prevention campaigns are sent by e-mail.

Open Tuesday to Friday on the Hannah Arendt campus, d

9 a.m. to 4 p.m.

on Mondays from 9am to 4pm on the Jean-Henri Fabre campus

Appointments with a doctor on Tuesday mornings at JH Fabre, and Tuesday afternoons at HA (by appointment).

Hannah Arendt Campus, North Building

–

office OE35 and 0E36

Jean-Henri Fabre Campus, CERI, health and social area, office C047
tel. 04 90 16 25 72

Mail :

medecine-preventive@univ-avignon.fr


Documents to download
Mis à jour le 18 July 2023