Sport
The SUAPS (Service Universitaire des Activités Physiques et Sportives) covers all sports activities organised on the campuses of the University of Avignon. More than 50 activities are offered throughout the year, through courses allowing the student to follow weekly "Unités d'Enseignement d'Ouverture" (UEO) but also courses to help personal development.
Artistic physical activities, maintenance activities and soft practices, team sports, racket sports and combat sports, all of these activities are available to students and staff alike, not forgetting outdoor physical activities such as golf and swimming.
All the UEOs offered by SUAPS can be found at
this page
–
NEW - 8 videos to answer all your questions!

NATURE EXPERIENCES (see programme in the right-hand column - documents to download)
Kayaking in the sea and river
Canyoning
Climbing
Paragliding
Downhill skiing, Nordic skiing, snowboarding
Surfing (ocean)
Via ferrata
Speleology (UEO APPN)
MOUNTAIN BIKE
You can also find all the latest news about the UEO, nature experiences and other events on our instagram, facebook and twitter pages: SUAPS Avignon Université.
Instagram: Suapsavignonuniv
Facebook : Suaps Avignon University
Twitter : @SuapsU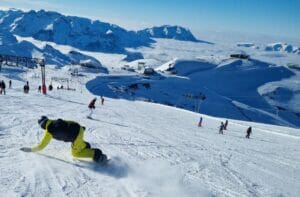 SUAPS is also :
access to the services of a sports wellness advisor - make an appointment : cbes@univ-avignon.fr and a dietician
free access to Avignon's swimming pools (ticket to be collected from reception once a week)
free access to the Avignon Chateaublanc golf driving range (ticket to be collected from reception once a week)
access to themed evenings: Climbing Night, tournaments, "All for Golf" one Friday a month
Access to the SUAPS Nocturnes (programme in the right-hand column - documents to download)
Fitness on the Jean-Henri Fabre Campus
The SEVE Fitness Area welcomes all students and users wishing to develop an independent outdoor sports practice. Located in the car park of the Jean Zay student residence, this space developed by the SUAPS thanks to the Ville Campus scheme is freely accessible to all.
How to register?
Whether you want to register for a UEO sport or a personal development sport, registration will open on Monday 11 September 2023 at 07:00.
Registration for the nature experiments opens at midnight on 18 September (night of 17-18).
UEO courses will start on Monday 18 September.
*********************************************
No student will be able to take part in a course (UEO) unless they are on the lists (compulsory registration with the administration or via ENT).
*********************************************
Documents to download
Coming to the sports centre
Monday: 8.30am-12.30pm / 1.30pm-4pm / 6.30pm-9.30pm
Tuesday, Wednesday, Thursday: 8.30am-12.30pm / 1.30pm-4pm
Friday: 8.30am-12.30pm
Permanence Campus Jean-Henri Fabre :
Tuesdays from 11am to 1.30pm (in front of the BU)
Mis à jour le 20 September 2023