3A platform
The 3A Platform is a set of shared facilities jointly managed by INRAE and Avignon University. This research infrastructure was acquired as part of a project submitted under the CPER in 2013.
The State, the PACA Region, the Vaucluse Departmental Council, Greater Avignon and the ERDF have joined forces to finance this project worth more than 3 million Euros, which consolidates the key position of the Agroparc site in Agrosciences research at national and international levels.
This equipment can be used by the laboratories of Avignon University, INRAE and by all academic and industrial partners who wish to take advantage of the availability of this exceptional equipment.
The 3A Platform consists of 3 distinct platforms:
 
An Environmental Control Platform (ECP)
 
An Analytical Platform (AP) comprising 3 platforms (Metabolomics, Spectrometry and Microscopy)
 
A Platform for Animal and Human Physiology (PPAH)
The platform benefits from state-of-the-art equipment in the various specialities as well as high-level infrastructures in order to meet the challenges of scientific research and innovation. 


Supported by SFR Tersys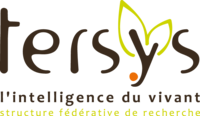 Contact
Mis à jour le 22 December 2022